So, what do you think of the dismal showing of Arenal this week? Should I stay or should I go springs to mind!
A decision on the future of Arsenal manager Arsene Wenger will be made at the end of the season.
Despite Wednesday's Champions League last-16 first-leg thrashing at Bayern Munich, there is currently no prospect of Wenger leaving before the summer.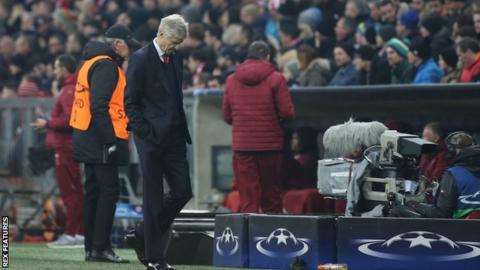 The 67-year-old has already been offered a new contract and it remains on the table.
It is expected the decision for him to stay or leave will be mutual between the Frenchman and the club.
Wenger has been in charge of Arsenal since 1996 but his current deal with the Premier League club expires at the end of the season.
He has not won the league since 2004 though has consistently qualified for the Champions League.
However, the Gunners will almost certainly exit the Champions League at the first knockout round for the seventh straight year after the 5-1 defeat at Bayern Munich.
The nature of the loss, coupled with successive league defeats by Chelsea and Watford, has prompted several former Arsenal stars – some of whom played under Wenger – to suggest his time at Emirates Stadium is coming to an end.
Let me know your comments below. Are you a Gooner? Should he stay or should he go nowwww!